Senate Republicans have responded with a searing retort to Malloy administration criticisms of their budget. Senate Democrats and House Democrats and Republicans have struggled to create budget proposals that have been reviewed and costed by the Office of Fiscal Analysis. The herd of candidates hoping to become the state's next governor have had little to say about the budget impasse. Here's the Senate Republican reply to Malloy budget enforcer Benjamin Barnes.
Fasano Response to Secretary Barnes' Criticism of Senate Republican Labor Savings Plan
Hartford – Senate Republican President Pro Tempore Len Fasano (R-North Haven) released the following statement in response to Office of Policy and Management Secretary Ben Barnes' criticism of the Senate Republican alternative state employee concessions plan which could be achieved legislatively.
"It's clear that the governor's administration is repeating union talking points to protect their negotiated deal. These are self-serving statements meant to detract from the reality that Senate Republicans have a viable alternative that will put state employee benefits more in line with the benefits union employees outside of state government receive today. I understand that the administration is extraordinarily nervous that Senate Republicans have come up with a legal, realistic, measured plan which saves more money than the governor's deal which took over a year to negotiate. I understand the purpose of Secretary Barnes' statement. Unfortunately, the statement is inaccurate and self-serving," said Fasano. Details below.
Governor's Claim: The Senate Republican requires that employees in 2022 be converted to a pension system that is worth less than the contributions required of employees.
Reality: The Senate Republican proposal is based on the standards in other states. Our proposal would increase state employee pension contributions to 6 percent which is still below the national average of 6.6 percent.
Governor's Claim: It depends on reducing pensions that were already earned and slamming retirees into a new health plan, subjecting the state to class-action litigation not unlike SEBAC v. Rowland which resulted in more than $100 million in costs to taxpayers.
Reality: It is completely inaccurate to compare any part of the Senate Republican proposal to SEBAC v. Rowland. In that case, the state was wrong in its actions because it tried to change benefits for union-employees only. The Senate Republican proposal would implement changes that apply equally to union and non-union state employees, so there is no basis to compare this plan to what happened under Gov. Rowland. In addition, the Medicare changes referenced above are the same changes that are included in the governor's deal that state employee unions supported and which the SEBAC coalition described to their members as not changing benefits, but simply changing the vehicle by which plan benefits would be delivered.
Governor's Claim: The plan does nothing to fix the cost of current state employee benefits, deferring all real benefit changes until 5 years in the future.
Reality: The only reason we cannot implement certain changes right away is because the governor extended the current state employee health and pension benefits until 2022. The Senate Republican plan honors the current SEBAC agreement by not enacting changes to state employee health and pension benefits until the agreement expires. Our proposal still manages to achieve significant savings above the governor's deal in both the short term and long term, saving $1.9 billion over the next two years. It does all this while respecting and upholding the contracts in place today.
Governor's Claim: Indeed, only a SEBAC agreement can deliver more than $350 million in employee and retiree healthcare savings right now when we need them.
Reality: The Senate Republican labor savings proposal can legally achieve $836.9 million in labor savings in fiscal year 2018 and $1.08 billion in labor savings in fiscal year 2019. This is $340 million more in savings than the SEBAC negotiated union deal. In addition, the Senate Republican savings plan rolls out to significantly more savings than the governor's deal totaling billions in future years.
July 19, 2017 3:44 pm Comments Off on Malloy Administration Struggles with Facts and Details of Senate Republican Budget.

Standard & Poors has declared Hartford's bonds junk. The story, which you can read here, is linked on Drudge.
Read the whole thing, but here's a chilling excerpt:
"And yet, while Illinois squirms in the agony of the unknown, another municipality that as recently as a month ago was rumored to be looking at a bankruptcy filing, the state capital of Connecticut, Hartford, no longer has to dread the unknown: on Tuesday afternoon, S&P pulled off the band-aid, and downgraded the city's bond rating by two notches to BB from BBB-, also known as junk, citing 'growing liquidity pressures' and 'weaker market access prospects', while keeping the city's General Obligation bonds on Creditwatch negative meaning more downgrades are likely imminent."
Curiously, nowhere does the analysis say that spending tens of millions of public fund to bring a professional hockey team to Hartford would help solve the city's many troubles.
July 11, 2017 9:31 pm Comments Off on S&P: Hartford Bonds are Junk.
Bloomfield Democrats do have a taste for a local primary. This year six Democrats will challenge the Democratic incumbents on the Town Council in a September primary.
The challenge slate is comprised of these eager locals:
-Suzette D. Brown: ordained minister, parent of Bloomfield High School student
-Kevin Gough: actuary, environmentalist, long-time town activist
-Rickford Kirton: accountant, Bloomfield Middle School PTO president, parent of two Bloomfield school students
-David Mann: urban planner, landscape contractor, member of Bloomfield Inland Wetlands and Watercourses Commission
-Jennifer Marshall-Nealy: Bloomfield Ethics Commission Alternate, grandparent of Bloomfield school student
-Kenneth McClary: public policy analyst, Democratic Party activist
The challenge slate pledges to bring economic development, fiscal responsibility, and transparency to Bloomfield's local government.
The challengers will meet the public and the press Friday, July 14, 6 PM at Naatiya South Indian Restaurant located at 8 Mountain Ave. – Bloomfield Mini Mall.
July 11, 2017 3:33 pm Comments Off on "New Generation of Democratic Leaders" Prepares for September Primary.
Democrat Dan Drew will become a candidate for governor this week. The Middletown Democrat released this announcement Tuesday:
I wanted you to be the first to know that I'll be making a major campaign announcement tomorrow.
After six months of speaking with residents across the state, I've come to a decision about running for Governor of Connecticut.
Please join me at Harbor Park in Middletown at 5:30 p.m. on Wednesday to hear about my vision for Connecticut and how our progressive values will provide the solutions we need. 
It's time to believe in Connecticut again.
Thank you for all your support,
Dan
P.S. – If you can't make it in person but still want to watch, we will be streaming the announcement on Facebook Live. Just visit my Facebook page to watch! 
Drew ends his exploratory committee for statewide office and begins his formal campaign for governor with just $26,000.00 left in his coffers from the $175,000.00 he's raised.  Drew, according to his campaign finance report, has $3,000.00 in debts. With his declaration of candidacy, Drew will be limited to accepting maximum contributions of $100.
If another Democratic campaign is to be believed, Drew will need to up his game in the contest ahead. Rival Chris Mattei's campaign told supporters in a crowing email from paid staffer Maryli Secrest that Mattei "has been out-hustling everyone else in this race." That will come as a surprise to the others bumping into to each other as they elbow their way into small events around the state. Watch for congenialuty to take some hits as the campaign proceeds.
July 11, 2017 1:31 pm Comments Off on Drew to Convert to Campaign for Governor as Burn Rate Accelerates. Middletown Democrat Has $26k on Hand.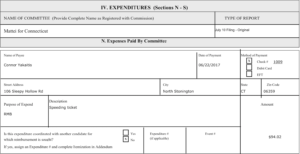 Politicos of all sorts are pouring over the niagara of campaign finance reports filed today. One expenditure has citizens of the permanent government in the Capitol Village tittering. The Mattei exploratory campaign report includes payment of $94.02 for a speeding ticket. It strikes observers as a personal rather than a campaign expense. The sort of thing a prosecutor might have rebuked, say, John Rowland or Chris Donovan for doing.
The Hartford Democrat's number enjoyed a strategic release. The report was filed today, along with many others. It features many contributions above $100 that will not count in the tough slog to $250,000. It includes a tranche of contributions from the Republic of Cambridge among its many out-of-state givers.
Perusing a variety–by no means all–of the reports filed in the last few days gives rise to a general inquiry. When will we see a campaign that provides health insurance coverage for the workers?
July 10, 2017 10:32 pm Comments Off on Mattei Contributors Paid Speeding Ticket.
A record $145,000.00. That's what Shelton Mayor Mark Lauretti will report today in contributions to his second gubernatorial campaign. All funds qualify for the state's generous public campaign financing scheme, Lauretti told Daily Ructions this afternoon.
The long-serving Republican mayor said he had received contributions from 1,500 donors from the around the state, with donors concentrated in the New Haven, Bridgeport, Waterbury, Hartford, and, of course, Shelton areas.
Lauretti also got off to a fast start in his 2014 gubernatorial campaign, but he had trouble winning commitments from delegates. He did not qualify for the party primary, switched to the contest for lieutenant governor and failed to collect the signatures he needed to win a place on the primary ballot.
July 10, 2017 3:02 pm No Comments
The History Channel thinks it has located evidence that aviator Amelia Earhart survived a July 1937 crash in the Pacific. The mysterious of Miss Earhart's disappearance has inspired 80 years of speculation and searches. Now that the Peacock Network has resolved that mystery, here's a tougher challenge. Find the plan in Republican Mark Boughton's vague proposal to eliminate the state income tax. An island of thought in a sea of platitudes is not a plan. "
"There is no simple, painless way with which to eliminate the state income tax. But I am committed to working with the best and brightest to restore Connecticut to its former glory," Boughton writes in his hometown newspaper. He is correct that there is no "simple, painless way" to get rid of the tax that since 1991 has kept open the spigot of ruinous state spending. A pledge to work with "the best and brightest" is not a plan.
There is a terrible idea in the Danbury mayor's Seinfeldian op-ed. It would remove education funding from our democratic institutions. That does not seem like a Republican plan. Binding arbitration–removing teacher salaries out of the democratic process–has driven spending higher at a far greater rate than the growth of the state's economy. Boughton has been a driving force in the CCJEF lawsuit to take even more authority away from elected officials in making decisions on how to fund public education. He's been in the forefront of those clamoring for for billions more spending on education, which is unlikely to allow the elimination of the income tax if Boughton and his leftwing allies prevail.
It is good for candidates for governor–and those exploring a race–to have aspirations other than personal ambition. This campaign is not a show about nothing. It requires more than fanciful wishes amidst a recitation of the milestones in Connecticut's decline.
July 7, 2017 11:19 am Comments Off on Mark Boughton, Amelia Earhart, and a Wish to Eliminate the State Income Tax.
Connecticut Republican party leadership has been busy making pie charts. They aren't about the state's budget crisis or the persistent loss of jobs in the state. The party leadership is consumed with itself and tiny thoughts. Take a look at the charts above purporting to analyze political news coverage. They were displayed to party committee members last month. The leadership seems particularly possessed by the work of the Connecticut Post's Neil Vigdor.
Here's a suggestion: Share interesting thoughts using your inside voice and you will be quoted.
July 5, 2017 1:25 pm Comments Off on Paging Mr. Nixon: GOP Party Leadership Mired in Little Thoughts, Caught in Nest of Grievances.
July 5, 2017 7:36 am No Comments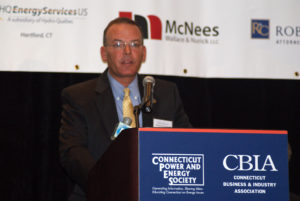 Former state representative and utility regulator Kevin DelGobbo has died. The popular Naugatuck Republican was 53. He enjoyed a varied career in public service, making many friends and earning a reputation for working hard and mastering his brief. Here is his LinkedIn profile.
Kevin was elected to the House in 1998 and served until January 2009. He left the legislature when Governor M. Jodi Rell appointed him to the Department of Public Utility Control. He served until 2012, when the department was merged and renamed. He then served as the executive director of the Waterbury Development Corporation.
July 4, 2017 5:57 pm Comments Off on RIP: Kevin DelGobbo