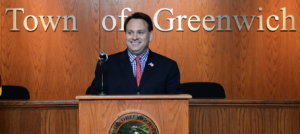 Greenwich Democrat Drew Marzullo (aka Joseph Andrew Marzullo) is on the docket Tuesday in Middletown Superior Court for a 5th degree larceny charge. Marzullo is a candidate for the Democratic nomination for lieutenant governor. He is serving his 4th term as the sole Democrat on tony Greenwich's governing body and is on the November ballot for a 5th two-year term.
Marzullo was arrested at the popular Clinton Crossing outlet stores on August 26th for stealing more than $500 of merchandise. Police apparently reviewed video recordings.
Curiously, Marzullo gave his address as East Putnam Avenue in Greenwich, though voter registration records list him as living on Orchard Street in Cos Cob.
Here's a screenshot of the docket:

Marzullo is not represented by counsel.
September 21, 2017 4:52 pm Comments Off on Democrat LG Candidate Marzullo in the Dock on Clinton Crossing Shoplifting Charges.
Democratic gubernatorial candidate and Middletown mayor Dan Drew hopeful may have committed a disqualifying error with his solicitation of campaign donations from municipal employees. The Middletown Press had the startling story of Drew soliciting employees, including public safety workers whose personal contact information is protected from public disclosure. Police officers, for example, do not have to disclose their home address on voter registration rolls.
Rival hopeful Christopher Mattei sees an an opening. The former prosecutor issued a scathing indictment of Drew's misbegotten ploy:
Chris Mattei Statement on Dan Drew's Solicitation of Campaign Funds from City Workers
Hartford, CT – Former federal prosecutor Chris Mattei issued the following statement regarding 
Mayor Dan Drew's solicitation of political contributions from hundreds of Middletown city employees, including law enforcement personnel, which were sent to their private residences.
"What Dan Drew did was wrong – plain and simple. As the elected Mayor of Middletown, he used the authority of his office to obtain the confidential information of his subordinates, and then used that authority and information to urge city workers to give money to his campaign. It's not unreasonable for those workers to think that they now have to donate to his campaign in order to continue or advance their careers.
"This is the old kind of politics – the kind that has led so many voters to distrust government and elected officials. The question for Connecticut is whether we will finally choose a new kind of politics for our state. A politics free from shakedowns, insider deals and cynicism. I will leave the legal determinations to the Middletown Council Clerk and State Elections Enforcement Commission, but we don't need to know whether something is illegal to know that it is wrong.
"We have deep challenges in our State – challenges that we can overcome if average people trust their leaders to do the right thing on their behalf. The conduct here is a step back into a past many Connecticut residents would like to leave behind. If we hope to move forward, this type of behavior has got to end."
September 21, 2017 10:41 am Comments Off on It Begins. Mattei Excoriates Drew. Middletown Mayor Stumbles With Employee Solicitation.

New Madison Republican Robert Stefanowski has formed the Bob for Governor campaign committee to seek Connecticut's top job. Voter registration records show Stefanowski switched his party affiliation from Republican to Democrat last fall. He returned to the Republican fold this summer.
"Bob is a visionary executive and thought leader with 25 years of experience leading complex global organizations, business turnarounds and restructuring," according to a campaign biography. He is not enough of a visionary to eschew the egregious term "thought leader."
Stefanowski like to run marathons and was a generous donor to dodgy Ireland real estate owner and Friend of Angelo Christopher Dodd (D-Countrywide). No word on what vision prompted that ill-considered support.
At tonight's state Republican fundraiser, Stefanowski is hosting a private session with pollster John McLaughlin. Conservative Republican Tom Scott, last heard from on the eventful 2016 Augie Wolf for Senate campaign, is handing press.
UPDATE: Robert Stefanowski writes, in part, in response to an email:
"Except for a few months, I have been a Republican my adult life. Over the past 20 years the failed policies of career politicians in Hartford have led to job loss and droves of businesses and people leaving this state.  This is what the governor campaign should be about."
"The career politicians love to distract the public from their own abysmal record, but we should be focused on how we fix this state, not political rhetoric. I'm not trying to convince anyone I'm the best politician in Connecticut. I was born here, went to public school here, attended college here, worked here and raised a family here. I'm a businessman and a job creator, period  If you want a story on who's the best political insider, call Dan Malloy."
He provided no response to a question about his generous support for career politician and professor  lobbyist Christopher Dodd.
September 19, 2017 4:14 pm Comments Off on "Visionary" Bob for Governor. New Republican Stefanowski Was Dodd Donor.
Admit it. You knew the double losses of Ned Lamont, Linda McMahon and Tom Foley would not be enough to discourage a wealthy Fairfield County titan–probably living in Greenwich–from running for governor. Enter hedge fund manager David Stemerman.
Bloomberg reports the Greenwich resident is shuttering his successful fund, Conatus Capital Management, to explore a run for governor of beleaguered Connecticut.
Stemerman has been a generous Republican donor, including $100,000.00 to American Crossroads in 2012, and also made a maximum contribution to Barack Obama's 2008 campaign, according to Open Secrets.
Republicans taking part in taxpayer financing of their campaigns are about to find out the trials of running a statewide race on $250,000.00 until May of next year. They risk finding themselves as one collective afterthought if Stemerman is able to marry a common touch to persuasive and innovative ideas. Add some first rate political talent–which his nascent campaign appears not have yet–and a powerful force will have arrived in the crowded race.
September 19, 2017 1:04 pm Comments Off on Hedge Wiz to Explore Race for Governor. Obama Donor a Prolific Giver.
From Republican gubernatorial hopeful:
"Friday night was a watershed moment in our state where it became crystal clear that struggling Connecticut taxpayers will not tolerate any more tax increases from Hartford," Herbst said.
"Connecticut residents have had enough of the business-as-usual attitude in Hartford that has brought our state's economy to its knees, driven businesses and residents out and suppressed wages and opportunity for hardworking taxpayers," Herbst continued.
"The plan, passed by both chambers, is imperfect but takes some significant steps in the right direction and would avert another massive tax hike," Herbst said, "and so I urge Gov. Malloy to reconsider his pledge to veto this budget."
"A veto from Gov. Malloy will embolden his insider allies in Hartford to make a renewed push for job-crushing tax hikes and allow the governor to slash municipal and education aid," Herbst warned.
"Most of all," Herbst said, "a veto would reaffirm the servile commitment of Democratic insiders in Hartford to putting the welfare of big labor special interests above what is right for Connecticut workers, families, businesses and retirees."
September 16, 2017 12:57 pm Comments Off on Herbst Calls Bipartisan Budget "Imperfect" "Watershed". Urges Malloy Not to Veto.
Republican Steve Obsitnik, who is exploring a 2018 race for governor, Saturday morning issued the following statement on the legislature's adoption of a bipartisan budget:
"I commend Sen. Fasano and Rep. Klarides on their leadership in passing a sensible budget that takes the state in a new direction.
I applaud the Senate and House Republicans, as well as the brave legislators who broke with their party and put Connecticut first. This budget provides the much-needed stability, confidence and, most importantly, a plan for future prosperity for all Connecticut residents.
Gov. Malloy has a choice — to continue to stand with the special interests that are driving people out of our state, or he can sign this budget and chart a new path for the future. I encourage him to support this budget."
September 16, 2017 11:11 am No Comments
Thursday and Friday were historic days in modern Connecticut political history. On Thursday, the legislature's Democratic leadership imploded into incoherence as its members were appalled to discover they were expected to vote for a messy, greedy budget. The stampede left leaders undone and incapable of explaining the way forward for even a few hours at a time.
Friday afternoon saw a bipartisan response forming on the rubble of the previous day. It began with a Republican budget proposal–shaped by the Senate Republicans and eventually supported by House Republicans–that had been unveiled months before. The decisive moment, however, came when three Democrats voted for it, providing a wide margin of victory in the evenly divided upper chamber.
Early Saturday morning, after an extended and notably bitter debate, enough Democrats joined their House Republican colleagues to provide a majority for the Republican proposal.
Missing in action was the herd of Republican and Democratic candidates for governor. The next governor will have to live with the biennial budget that is finally adopted. The opening days of the new administration will be spent coping with the new budget and proposing one to follow it.
Budget decisions made this week–even with Governor Dannel P. Malloy's veto of the bipartisan budget–are of lasting significance. We have entered into a new era of consequences. The politically ambitious, who spend their days seeking to persuade party activitists of their ability to lead, have been hibernating. Some cowering. Those are not the hallmarks of leadership that seeks to lead the state through the many perils that await.
When will they find their voices and add specific ideas to this critical debate?
September 16, 2017 8:49 am No Comments
September 15, 2017 3:10 pm Comments Off on Aresimowicz Video Shows What Taxpayers Are Up Against.
An email today:
Good morning,
We have just received a notification from the Office of Labor Relations regarding furlough days for October Retirees.  If those who will retire effective October 1, 2017, have not yet taken three days, please be advised they will only be responsible for one (1) furlough day before retirement.  I am awaiting further guidance from OLR as I understand some may have already accounted for more than the one(1)  day.  I will provide updated information just as soon as I receive it.  Thank you for your understanding,
Thank you,
AnneMarie Paone-Mullin, Director of Human Resources
Office of the Chief State's Attorney
September 15, 2017 3:00 pm Comments Off on State Still Figuring Out Furloughs for Retiring State Employs.
From Section 252 of proposed state budget:
The following amounts appropriated in section 1 of this act to the Judicial Department, for Youth Services Prevention, for each of the fiscal years ending June 30, 2018, and June 30, 2019, shall be made available in each of said fiscal years for the following grants:
$ 45,700 to Stamford YMCA; $ 88,800 to HANDS; $ 113,800 to The Walter E. Luckett, Jr. Foundation; $ 20,700 to Stamford YMCA; $ 88,800 to Take a Chance Foundation; $ 25,000 to Arte, Inc. ; $ 20,700 to Bregamos Theater; $ 49,000 to Computer Center Pope Park; $ 45,000 to Mi Casa; $ 20,000 to Charter Oak Boxing; $ 40,000 to Boys and Girls Club/Chandler Street; $ 35,000 to O. P. M. Ad; $ 25,000 to Family Reentry Organization, Inc. /Transition Mentoring Program; $ 15,000 to CHAMP Community Hands in Action Mentoring Program; $ 30,000 to The Village Initiative Project, Inc. ; $ 14,500 to the Stratford Police Athletic League; $ 35,000 to the Bridgeport Caribe Youth League, Inc. ; $ 15,000 to the United Mentoring Academy, Inc. ; $ 74,500 to the Human Resources Agency of New Britain, Inc. ; $ 30,000 to Pathways Sandero Center/Greater New Britain Teen Pregnancy Prevention, Inc. ; $ 30,000 to OIC of New Britain Inc. ; $ 13,070 to Girls, Inc. ; $ 13,070 to Boys and Girls Club of Meriden; $ 16,470 to Beat the Street Community Center; $ 13,070 to Meriden YMCA; $ 13,070 to Women and Family Center; $ 14,070 to City of Meriden/Police Cadets; $ 13,070 to Rushford Hospital Youth Program; $ 14,070 to New Opportunities of Greater Meriden/Boys to Men Program; $ 16,470 to Meriden Wallingford Chrysalis; $ 8,070 to Advocacy Academy Accomplish Education, Inc. ; $ 13,000 to Sound Community Services, Inc. ; $ 13,000 to New London Little League; $ 7,500 to Heavy Hitters USA; $ 6,000 to New London Babe Ruth League, Inc. ; $ 6,000 to Boys and Girls Club of Southeastern Connecticut; $ 6,000 to Historically Black College Alumni, Inc. ; $ 6,000 to New London NAACP; $ 22,416. 70 to Waterbury Police Activity League, Inc. c/o Waterbury Young Men's Christian Association dba Greater Waterbury YMCA; $ 22,416. 66 to Boys and Girls Club of Greater Waterbury; $ 22,416. 66 to Walnut Orange Walsh Neighborhood Revitalization Zone Association, Inc. ; $ 22,416. 66 to Rivera Memorial Foundation, Inc. ; $ 22,416. 66 to St. Margaret Willow Plaza NRZ, Association, Inc. ; $ 134,500 to the Church of the Good Shepard; $ 67,250 to town of East Hartford Youth Services/Youth Task Force; $ 67,250 to the town of Manchester; $ 91,150 to Bridgeport Caribe Youth League, Inc. ; $ 43,350 to McGivney Community Center; $ 25,000 to Project Overcome, Inc. ; $ 44,000 to Archipelago, Inc. Project Music; $ 44,500 to Boys and Girls Club of Stamford; $ 21,000 to William E. Edwards Academic College Tours, Inc. ; $ 25,000 to Artists Collective; $ 30,600 to C. U. R. E. T; $ 77,000 to Upper Albany Collaborative; $ 25,000 to Our Piece of the Pie; $ 114,000 to Windsor Collaborative; $ 30,000 to Urban League of Greater Hartford; $ 134,500 to Headquarters and Church Care of Kanaan Baptist Church; $ 50,000 to Buddy Jordan Foundation; $ 30,700 to Haitian Woman Association – Anacaona Youth Enrichment Program; $ 23,800 to Patrons of the Trumbull Nature and Arts Center, Inc. ; $ 30,000 to GVI; $ 50,000 to M. G. LL; $ 30,000 to Friends of Pope Park Troop 105; $ 40,000 to Boys and Girls Club/Chandler Street; $ 35,000 to O. P. M. Ad; $ 50,000 to 'r Kids, Inc. ; $ 78,500 to VETTS, Inc. ; $ 20,000 to Kids Kook Association, Inc. ; $ 5,000 to Cross Street Training and Academic Center, Inc. ; $ 104,150 to Middlesex United Way; $ 25,350 to Oddfellows Playhouse; $ 25,000 to Citadel of Love; $ 22,000 to Hartford Drill, Drum and Dance Corp. ; $ 19,000 to Mount Olive Ministries; $ 19,000 to Supreme Athletes; $ 10,600 to Windsor Collaborative; $ 28,000 to BSL Education Foundation; $ 10,900 to The Pillar; $ 50,000 to NH Symphony Orchestra; $ 50,000 to Solar Youth; $ 50,000 to Police Athletic League/NH PAL; $ 15,000 to BIMEC (Believe in Me Corp. ); $ 50,000 to New Haven Reads Community Book Bank; $ 20,000 to Higher Heights Youth Empowerment Programs, Inc. ; $ 20,000 to Sullivan Basketball Academy, Inc.
What does any of this have to do with the Judicial Department? Nothing other than the Judicial Department has limited resources to pay close attention to how these funds are spent once they go out the door. The state's Office of Policy and Management is the appropriate administrator of all this money.
September 15, 2017 2:30 pm Comments Off on Deficit? What Deficit? How the Democrats Spend $3,000,000.